7000 Loops and Sounds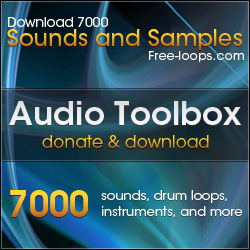 Download all 7,000 sounds and loops for a $19.95 donation. Why spend hours when you could just spend minutes.

"Time is money" so quit wasting both and download the ultimate sample pack today. The donation helps support our free site, and improve the quality of the content you enjoy.

Instantly download and access over 7,000 loops, sounds, and instruments in MP3 format from anywhere in the world. Download the free utility that allows you to convert the files to wav. All this for a small donation of $19.95 Don't hesitate donate today!


---
BONUS OFFER FREE!!!
As an added bonus if you donate today you also get this top rated e-book.
Making Money with Music

Here are the topics covered in the book.

How Not to Get Sued, Copyrighting Your Work, Legal Use of Samples and Sounds, Getting Started in the Music Biz, Promotion Techniques that Work, Making a Press Package, Creating Your Own Label, Turning Real Profits, Submitting Work to a Label, Look and Sound like a Pro, Getting Your Music Heard
So don't hesitate donate today!